Register for FREE Workshop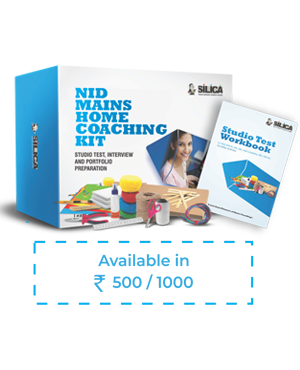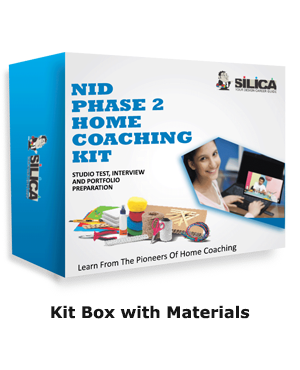 NID Mains 2022/2023 - Home Coaching Kit

Highlights:
30+ Video Lessons
140+ Exercises to Solve
20+ Materials for Mock Tests
MDes: 19 Disciplines Prep
FREE 2 Days Workshop @ Live Online
NID Sample Paper
Call us on 08080809198 if you face a problem in downloading free lesson or sample papers.
Please fill the form below.
Compare Kit Options:
| # | Particulars of Product | Online Kit* Rs 500 | Box Kit Rs 1,000 |
| --- | --- | --- | --- |
| 1 | 7 Day Course with 30+ Preparatory Videos | Online | Online |
| 2 | 7 Day Workbook with 100+ Studio Test questions | Online | Book |
| 3 | 20+ materials forMock Tests @ Home | | |
| 4 | For M.Des. - Discipline Specific questions / tests | Online | Online |
| 5 | PDF and Video Resources for Interview Preparation | Online | Online |
| 6 | PDF and Video Resources for Design Portfolio | Online | Online |
| 7 | FREE - 2 Day Workshop @ Live Online | | |
*Note: Recommended for all NID MDes Students.
Click for Detailed Contents of Kit:

Available on Online Portal / App
7 Day kit with over 28 video lessons
You can pause-rewind-relearn any time of the day

7 Day workbook Covers all 4 aspects of studio test
Contains over 100 studio test exercises
Contains 10 Mock Studio Tests
Contains tips for solving studio tests

| | |
| --- | --- |
| 3. | Material for Studio Test |

Kit contains 20+ Materials similar to real studio test

| | |
| --- | --- |
| 4. | MDes Discipline Specific Test |

There are 19 specializations at NID M.Des. course.
For M.Des, in the studio test the candidates will get discipline specific questions e.g. product design.
This e-book will provide you with questions and hints to solve such questions.

| | |
| --- | --- |
| 5. | E-book on Portfolio Guidance |

Complete guide to prepare design portfolio

10+ Sample Portfolios of Past Toppers
40 page book of General Portfolio Guidance
150 page book on 20 ways to create a Portfolio.

| | |
| --- | --- |
| 6. | E-book on Interview Guidance |

Complete guide to prepare for design school interview.
Contains over 50 possible questions in Interview

| | |
| --- | --- |
| 7. | 2 Days Free Workshop @ Live Online |

Conducted by NID Alumni
For Feedback on Studio Tests and Mock Interviews
NID Preparation 2022/2023
Customer Reviews
NID Mains 2022 - Live Online Coaching

Highlights:
Based on 2021 expected pattern
Conducted by NID alumni
Covers Theme Poster, SOP, Portfolio
Covers Mock Interviews
For MDes: Discipline Specific Coaching
FREE: Access to Online Study Kit
NID Studio Test Live Online Coaching
NID 2022-2023 UPDATE :
Application forms for NID B.Des and M.Des 2022 - 23 are out.
Pls find the details below:
Exam date : 2nd Jan 2022
Last date to apply : 30th Nov 2021
Registration link - https://admissions.nid.edu/NIDA2022/Registration.aspx
Brochure:
What our Student say
Krishna Gilda

NID 2020 - AIR 1
"From all the institutes which I researched, SILICA is the best I found. The course material, the teaching & non-teaching staff, the online learning portal helped me alot to get my dream college. SILICA helped to build my own vision of Design."
Kashish Gupta

NID 2020 - AIR 4
"Studying at SILICA for the past two years have been the most fruitful years of my life so far. It was under their guidance and the undying support of my faculty that I could secure not just 1 but 2 ranks in two separate National Design Exams."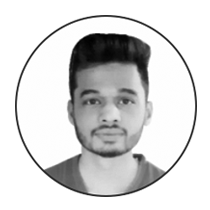 Ruchit Dhakita

NID 2020 - AIR 4
I am really thankful to the SILICA faculties, the non teaching staff for guiding me to the right direction. I especially want to mention that LMS (Online Learning Portal) was the Bible for me. It helped me to know what design analysis is.
Purav Bhardwaj

NID 2019 - AIR 2
"The guidance I received at Silica was invaluable. Teachers here take careful consideration in helping and guiding students, which was helpful for my preparation. The course material is meticulously designed to help students recognize their strengths and weaknesses, and the overall environment at SILICA is one that incubates creativity. I'd like to thank SILICA for making my journey easier throughout."
Due to COVID-19 , the NID DAT Mains was conducted Online from home. Details related to Online interaction were sent to the candidate's registered email id. The exact time and date was mentioned in the admit card. Also, students had to submit their required documents for verification purposes. Candidates were allowed to choose their campus and course program during the process of counselling and can freeze their seat.
There was change in weightage for the evaluation of final result of NID DAT. The weightage for B.Des DAT Prelims was 70% and for DAT Mains is 30% (online interaction). For M.Des, the revised weightage for DAT Prelims – Common Design Aptitude Test was 15% & Discipline Specific Test was 45% and for DAT Mains (online interview) weightage was 40%.
The cut off for NID DAT Prelims in 2021 - Click here
The cut off for NID DAT Mains in 2021 - Click here
The DAT Mains consists of two parts:
Studio Test: This may consist of tests in different formats such as drawing / sketching, hands-on model making, group discussions, observation tests, problem solving tests etc. This test will be marked out of 100 marks and will be conducted in English.
Interviews (only for MDes): The interviews will be conducted separately for each discipline, immediately after the Studio Test, at the same centre. This will be marked out of 100 marks. This will be an opportunity for the students to present themselves and their design portfolio to the jury.

Note: The DAT prelims score carries 70-80% weightage in final score. For MDes, the split is Studio Test (50%) and Interview (30%).
NID B.Des. Studio Test - The questions will be common / similar for all.
NID M.Des. Studio Test - The questions will be design discipline specific.
The following table shows a list of topics and questions, which can be asked in the Studio Test:
| # | Type of Question | Sample Question |
| --- | --- | --- |
| 1 | Doodling & Drawing | Observe the car parked outside and sketch it from 2 different angles. |
| 2 | Observation Tests | Questions which will test your observation through the 5 senses: Sight, Hearing, Touch, Smell, Taste. E.g. List down all the ingredients that made up the breakfast you had this morning. |
| 3 | 3D Model Making | Use the given clay and thin wire to create a 3D model of your favorite cartoon or animation character. |
| 4 | Problem Solving | More Applicable to M.Des. E.g. Automobile Design: Design the dashboard of concept motorbike by Honda. Please explain your concept through notes and sketches. Please show final rendering of the dashboard of the motorbike. |
| 5 | Group Discussions | In a group of 10 candidates, have a group discussion on the following statement. Discuss either For or Against the statement. "Do quarrels strengthen relationships?" |
| 6 | Other Tests (Skits etc) | In a group of 5 candidates, prepare a 3 minute skit on the following topic:"Incredible India!" |
There is no standard list of questions which are asked in a design admission interview. The questions will revolve around the candidate's life, personality, temperament, achievements and creative outputs till date.
Some sample questions are:
Why do you want to join NID? What will you do if you don't get into NID?
What would you do if you find a homeless person on the street shivering in cold?
In one minute, tell us why we should select you at NID?
You have one minute, make us laugh.
For M.Des. (E.g. Product Design):

Who is your favorite Product Designer?
What are some of the new products that fascinate you? Why?
What is happening in the Indian Product Design industry?
A design portfolio is not mandatory for admission to NID, but it helps the interviewer in assessing the suitability of the candidate for NID. During the interview, the candidate may present their past work (academic and/or professional) such as drawings, photographs, models, relevant documents etc., which they may like to share with the interview panel. These may be in analogue or digital (in a USB drive or your own laptop) format. The portfolio should reflect the candidate's interests and abilities.