NIFT 2020- Schedule, Counselling, Documentation Updates and Available Seats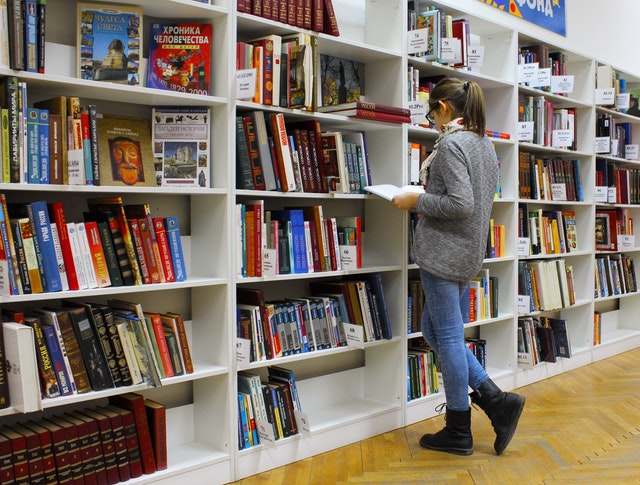 According to the notification put out by NIFT, dates for online counselling sessions for shortlisted students have been declared. For now, counselling schedule has been updated only for courses like Master of Fashion Management, Master of Design and Masters of Fashion and Technology. Below table displays the schedule regarding the online counselling for NIFT admissions.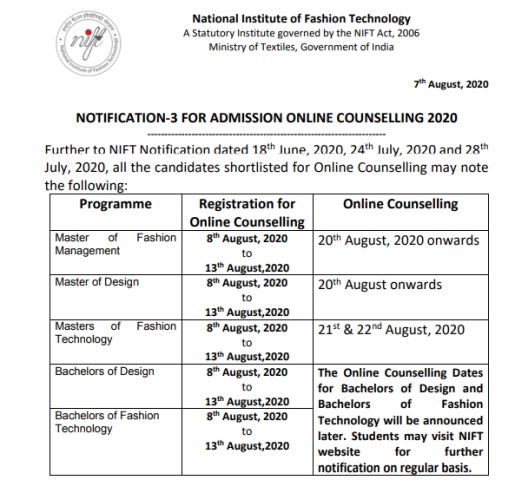 It is mandatory for every candidate to register for Online Counselling and follow the instructions properly. Without registration, a candidate will not be considered for NIFT admissions for the year 2020.
What exactly is counselling?
Candidates, after clearing the NIFT admission criteria need to first register for NIFT admissions and appear for the NIFT counselling later, as per the schedule given by the authority. Due to the scare of Covid-19, the entire counselling process has been shifted online.
The shortlisted NIFT candidates need to take part in the counselling in order to block their seats. It is very important that the aspirants take part in the counselling according to their NIFT entrance exam rank and also according to the category under which they have applied for admission. Multiple rounds of counselling are conducted for admissions at 16 NIFT campuses.
Documentation Update:
 For the candidates who have come through the NIFT 2020 selection process for admissions, it is important for them to keep all the soft copies of necessary valid documents ready including Proof Id's that include Date of Birth, Qualifications and also caste and category certificates. All the documents have to be uploaded in the mentioned format.
Also Read: NIFT Campus Comparison
You can click on the link below to find the list of documents according to the courses:
https://nift.ac.in/sites/default/files/inline-files/Notification%20for%20Counselling-3_7th%20August%2C%202020.pdf

What's the Update?
The rule mentioned in Annexure VI states that the details of Form A have to be filled by the candidate before a medical examination by a medical officer in any Government hospital. Form B also has to be filled by the medical office.
Taking into consideration the current pandemic situation and the difficulties to be faced at a Government hospital, it has been decided that candidates may get their Fitness Certificate i.e Form A and Form B from a practising MBBS doctor registered with the Medical Council of India and having a valid license to practise in India.
For official Notification, click on the link below:
https://nift.ac.in/sites/default/files/inline-files/Notification-2%20for%20Counselling%202020.pdf
NIFT Admissions for NRI candidates
NRI's, foreign nationals(whether residing in India or not) can apply for NIFT admission if they are eligible and can meet all the admission requirements for NIFT. The selection of NRI candidates will be based on their SAT/GMAT/GRE scores.
For the Bachelor's Programme (B.Des & B.FTech), SAT score is considered
For the Master's Programme (M.FM), GMAT score is considered
For the Master's Programme (M.Des & M.Ftech), GRE score is considered.
 Candidates of the NRI category have to apply for NIFT online the website: www.nift.ac.in or https://applyadmission.net/NIFTNRI2020
At the end of the admission process, if there are some vacant seats under this category, then the seats will be offered to the children/wards of NRI.
Will you get a seat? 
Most candidates seeking admissions at NIFT have a common question of whether they will get a seat or not. This year NIFT is offering 4,927 seats for all courses across its 16 campuses. The count of seats also has increased as compared to last year. Out of the total number of seats 3590 seats are available for Indian nationals. 278 seats are reserved for candidates under the State Domicile category whereas 429 seats are offered to NRI/OCI/ Foreign Nationals/ SAARC students.
To know more about the seat count, click on this link:https://nift.ac.in/sites/default/files/inline-files/Prospectus%202020.pdf 
What about the cutoff?
To know if their score can help them seek admission in NIFT, candidates can check the Cut-offs of NIFT admissions from last year. This will give them an idea to select the campus or course during the counselling session. The 2019 admission cutoff list will make you aware about the right options for you according to your score.
Silica offers coaching for NIFT entrance exams and provides candidates necessary guidance to gain admissions for their preferred courses. To know more about Silica's Coaching process, visit www.silica.co.in 
Also Read: All About NIFT Placements
Also Read: How Do You Prepare for the NIFT Entrance Exam in the Next 30 days?
Also Read: NIFT Entrance Exam: Last Minute Tips & Important Things To Remember
Also Read: All About NIFT Coaching, Sample Paper, Solution for 2021